Forget Sushi, This New Authentic Japanese Restaurant In Paceville Is All About Frying Up
Asian food has exploded in Malta over the last few years, with a number of good sushi bars as well as ramen and other tasty dishes being offered. However, not all of them are actually run by people who grew up eating and cooking their national food.
Tokyo Fried House is all about real traditional Japanese food – and we aren't talking sushi. We are talking fried pork loin, fried battered chicken, or fried silky tofu, alongside a really Japanese drink menu to boot. 
Between the Japanese style service, decor and attire, as well as the plum wine, sake, and the Japanese cocktails, Tokyo Fried House may be as close as your really going to get to Tokyo in Malta.
Japanese snacks
The meal begins with a warm towel delivered by the soft-spoken service. Being able to clean your hands comfortably before eating is pretty nice to be honest.
A tray with some Japanese snacks is placed in front of you. Hot wasabi peas, umami Japanese beans, and tangy sweet crackers open up the palate. 
Zen sai
Next is a plate of room temperature side dishes and pickled items. Pickled radish, Japanese gherkins, mashed potato with carrots, spinach cooked in a light fish broth, and marinated peppers provide an array of surprisingly soft flavours.
You barely taste the fish broth, and the pickled radish was pretty darn good.
Agedashi tofu nasu
This lightly battered mix of silky tofu and baby egg plant served over a traditional broth was very tasty. The aromatic batter on and the soft bite of the baby egg plant was everything. The tofu's batter was made from potato starch, and it was super gelatinous, making it a very interesting dish.
Teishoku 
Teishoku is a traditional Japanese meal with a very tasty miso soup, steamed rice, a cabbage salad a fried main of your choice. You can go for fried pork loin, chicken, or tofu.
I opted for the Tonkatsu – deep fried pork loin breaded with panko. Something about the way it was battered and fried makes it stand out from the other fried pieces of pork on the island. It's worth visiting just for this deep fried pork loin.
They also have their a sesame sauce which they make and bottle themselves. It was nice and creamy and really tasted of sesame, and added a nice bite to the rice.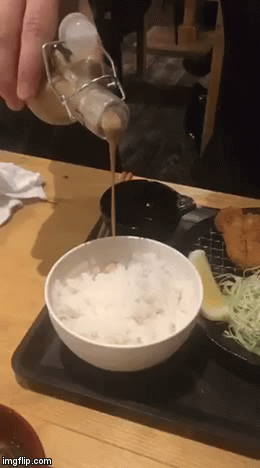 Maccha ice-cream with nashi fruit
Nashi fruit is an Asian pear. It looks like a large green apple, but has the texture of a pear and the taste of a watered down kiwi.
Mixed with the superb Matcha ice-cream, this was a beautifully smooth way to end the meal.
At least, that's what I thought until the sake showed up.
I've taken some shots in my life, but I never took one like this. The shot glass is placed in a red plastic box, and the sake is poured till it overflows in the box. You are expected to finish it all, including the overflowed sake.
If you can't afford to go to Tokyo, but can make it to Paceville, this place might be worth giving a shot. From the service to the dishes, the place is as Japanese as it gets.
Tag a friend who needs to try some authentic fried Japanese food!