Sink The Post-Summer Blues With A Pint! Oktoberfest Has Arrived In Malta And We Can't Wait
Brace yourselves: this is no ordinary beer festival. This is the authentic Oktoberfest celebration in Malta and you heard it here first.
Oktoberfest has landed in Malta and we're very much ready to take on every beer on offer.
September 2019 will welcome an authentic experience to Malta for the first authentic edition of Oktoberfest Malta; showcasing an incredibly large amount of beer brands all under one roof.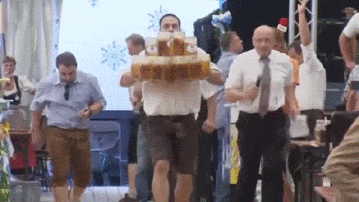 Yes, that is actual footage of us from the future grabbing as many golden pints as we can. 
No Oktoberfest is complete without barrels of beer. With more than 150 types of authentic beers from the most revered and respected breweries across Germany, Europe and of course Malta.
Malta's largest brewers and beer importers will welcome you with creamy, bubbly and gentle beers. The event also boasts a serving of Malta's top craft beers.
Local bands will be leading the frivolities and celebrations with the best traditional entertainment and mainstream music.
You'll also be able to engage in all manner of fun to keep the kids and grownups entertained. A special family-friendly fun park will be set up that will include rides of all sorts, animation, inflatables and vendors selling a variety of crafts, toys and tantalising sweets.
The Malta Oktoberfest will be held between Friday 20th and Saturday 21st September from 6pm onwards and a full day from 4pm onwards on Sunday 22nd September 2019.
And that's not the only Oktoberfest celebration to hit Malta for 2019.
Rudies Schnitzel Paradies, a German restaurant in Bugibba will be hosting their own Oktoberfest festivities from September 24th thru to October 6th, with some awesome German beers and ales and some juicy AF, authentic, German schnitzel.
Will you be heading down to the event? Tag your friends and get them rallied up for Malta's first authentic Oktoberfest experience.