WATCH: Is This Malta's Most Unloved Temple? Popular YouTuber Tours 'Most Disrespected Historical Site Ever Seen'
Malta is chock-full of megalithic architecture that date further back than the Egyptian pyramids. They manage to rake in millions of tourists every year and, sometimes even act as a backdrop to some DJ sets.
As awesome as they are, a popular YouTube channel has now come to Malta just to highlight how unloved one of the impressive stone structures has become over the years.
YouTube channel Rare Earth loves the impressive 5,000-year-old Maltese temples.. though they aren't exactly happy with how the island is treating its heritage.
In what we think is probably one of the most self-aware videos we've ever seen, host Evan Hadfield takes us on a whirlwind of surrealism that hits a little too close to home for our liking, but in the best of ways.
Evan speaks about the popular Ġgantija and Tarxien temple complexes but focuses the video on the Buġibba Temple… and just in case you have no idea what the Buġibba Temple is, here it is.
The Buġibba Temple
View this post on Instagram
Awkward much: I am actually a Buġibba resident myself and even I had no idea that a temple lay within the confines of the tourist town… and it seems like I am not alone.
In fact, not many people I asked were aware of them, either. And in the video, while Evan is filming around the site, not one person enters the frame or even passes them – and they're right outside the hotel in the middle of summer.
"I really think that the way they've presented this archaeology is a lesson in how not to do things."
Evan is right, this site does have the same pedigree as any other site in Malta, it's been around for just as long and holds just as much of a significance to the history of the Maltese islands and yet it's been hidden inside a hotel complex.
Evan's point is very clear: people don't visit historical sites for the history, we visit them to follow the crowd.
We visit what we know because we read about them in the pamphlets and in-flight magazines, because we're lazy and we don't want to do the hard research work for ourselves. In the same way that we expect convenience from the food industry, we have come to expect the same from our travels.
Everything Evan has to say about these temples is true. It does look out of place, it doesn't look real.
But that isn't the temple's fault, no. It's ours.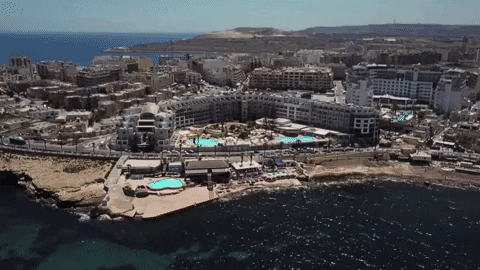 Earlier on in the video, Evan mentions how he was able to get an unloved area of Easter Island to the number one spot online among tourists by showcasing how unkempt the historical emphasis of the area was, and we think he needs a little help in doing the same thing here.
The Buġibba Temples are located just outside the main entrance of the Dolmen Resort, just off-centre from Buġibba Square and over the border of Qawra.
With the whole recent storming of Area 51 and Parliament being called off, we thought we'd perhaps offer an alternative:
Storm the Buġibba Temples, they (literally) cannot stop us because it's still kinda public property.
For too long, this orphaned trilithon has been forgotten by the world, and it's time we paid it the attention it deserves. We shouldn't have to be waiting for Canadian YouTubers to come over and serve them justice… even if they can't get their tongue around a soft G.
Let's get the Buġibba Temples to the top of TripAdvisor, what do you say?