Ever Wondered What Rhymes With Orange? This Quirky Valletta Bar Might Be Able To Help You Out…
Malta's capital city truly has a lot to offer, but did you know that there's a bar located in one of its winding streets that serves cocktails with names like "Rhymes With Orange"? You do now…
That isn't Café Society's only quirk, though
Not only is the decor super cute, it's also got this homely home-away-from-home (but also a local watering hole) feel.
Their drinks menu features Malta's favourite prickly pear liqueur rather prominently, on top of their spread of unique mixes
The "Rhymes With Orange" cocktail has to be their most eccentric, though. Mixing cinnamon and saffron honey with Cointreau, ruby port and lemon for a bittersweet bite of no regrets, you won't want to stop by Café Society without giving this bad boy a try and perhaps offer up an answer to the age-old question – what does rhyme with orange?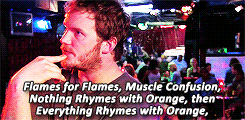 They also host a number of banging DJs, like local girl-power enthusiast and all-round vinyl-spinner, Nicole Parnis
And not only is the place über LGBT-friendly…
…but being located slap-bang in the middle of Valletta's Triq San Gwann gives them one hell of a view over the waters of the Grand Harbour
Just imagine the sunset haze and hues in the Summer over this place!
Did we mention that the bar staff are also super helpful and friendly?
So if you're ever in their neck of the woods, do them (and yourselves) a favour – see how it feels and put the tip in…
Tag your mates in the comments on Facebook and get the posse down to Café Society for a fun night out in the capital!