WATCH: Tourist Heaven Or Hell? This Californian YouTuber Warns Viewers 'Malta Is Very Touristy'… And He Ain't Exactly Lying
If there's anything Malta loves, it's being showcased as the beautiful Mediterranean island it truly is. If there's anything Malta doesn't like, it might just be this guy's opinion of it.
This is Gabriel, a budget traveller who's spent the last 30 years travelling around the world on a very tight budget.
The opening shot of this video shows about three seconds of the average summer day on Comino, which naturally means it's full of bikinis and speedos with Gabriel exclaiming, "Damn, this is insane!"… as if he expected a popular island no larger than 3.5km² to be able to fit the hundreds who flock to its shores every day with room to breath and all.
We then cut to this statement:
… presumingly added in the post-editing stage because he realised that with about four more of his videos being based in Malta and the previous one questioning how affordable it really is to travel in Malta that he might just be opening a can of worms he can't afford (because budgets).
All jokes aside, he has a point: Malta's tourist hubs are very touristy for a damn good reason.
So, where does he head to in order to showcase this?
Heading to Sliema Ferries, he joins the Luzzu Cruises tour of Malta, Gozo and Comino. The usual price of €40 is discounted for our travelling hero by a whopping €5, but he never reveals just how exactly he snags the deal. Maybe it was because of his American accent and the fact he was talking to his camera, but maybe it was just because he's a super savvy traveller.
So, he hops on the ferry and heads for Gozo first where he meets fellow travellers from Dublin, France and Italy. We get to see some beautiful, winding streets in all their Gozitan glory and the elusive green grass of Gozo we so very much miss in Malta.
With a bit of time to kill before they head to Comino, Gabriel heads to everyone's favourite Dwejra hub: the inland sea
With 90 minutes left in Victoria, Gabriel heads for some lunch and, on his way, stops by to check out the Bronze Age silos near the chapel.
He grabs a bite to eat at Victoria's well known Piazza Café
His menu choices? Rabbit ravioli with a side of roasted veg and washes it all down with a Cisk Excel, because even budget hunters have to watch their carbs.
In true Maltese style, his roasted vegetables aren't roasted but he seems to enjoy them.
His reaction to his first sip of Cisk is, literally, iconic: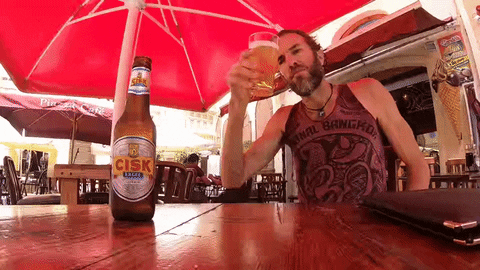 "Average." Blasphemy.
He erroneously calls it 'sisk' despite having pronounced it correctly in his pervious videos, so continuity gets one point revoked… but he makes up for it in the montage he has of his journey on Comino that follows.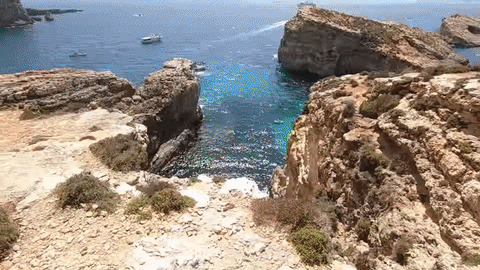 He can't get into Santa Marija Tower because this is Malta after all and he chooses to visit on a Sunday of all days, poor guy.
But shoutout to Mary's tower anyway, 'cos it's pretty awesome.
View this post on Instagram
Gabriel's only verbal remark on the tourists is during his walk through Comino's fields, where he can be heard saying "other than the people, it's beautiful" and if that's not the most truth he's spoken all video long I don't know what is.
What do you reckon? Is Malta a tourist heaven or a tourist hell?