Author Of Joseph Muscat's Biography Cyrus Engerer Calls For Muscat To Resign Immediately
Labour MEP candidate Cyrus Engerer has publicly called for the resignation of Prime Minister Joseph Muscat, a man he once wrote a biography about.
"I've always been clear that the national interest comes first," Engerer said in a Facebook discussion. "I told the Prime Minister he should resign both internally and publicly. With everything that's emerged, it clearly seems as though Malta and the Labour Party have been betrayed by Konrad Mizzi and Keith Schembri."
Engerer laid out why he had called for Mizzi and Schembri to resign.
-Because they opened secret Panama companies
-Because Daphne Caruana Galizia revealed that the companies were going to receive €5,000 a day from 17 Black
-Because 17 Black is owned by Yorgen Fenech
-Because Yorgen Fenech has been charged with killing Caruana Galizia
-Because there are serious suspicions that Schembri was involved with Fenech
-Because Schembri allegedly tried to help Fenech flee Malta
-Because Schembri allegedly tampered with the police investigations
-Because Schembri tried to frame up someone else [Economy Minister Chris Cardona]
"All of Malta should be angry and protesting," he said. "The only problem for people like me is that the protests are being led by [Manuel Delia], the former chief of staff of [PN Minister] Austin Gatt, who had a secret Swiss bank account in which he was allegedly paid money from oil procurement. His former chief of staff defends him till this day."
Engerer said that internal pressure has already led to the resignations of Mizzi and Schembri but admitted that a lot more still needs to be done.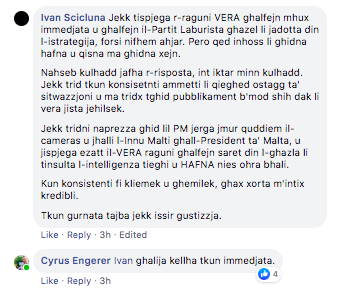 Engerer was then challenged by a Facebook user to encourage Muscat to address the nation again, this time to explain why he hasn't resigned immediately and why he will remain in office until 20th January. postponed his resignation till 20th January
His response was short and straight to the point: "In my opinion, he should have resigned immediately".