Joseph Muscat Wants To Tribalise This Fight For Justice… Don't Let Him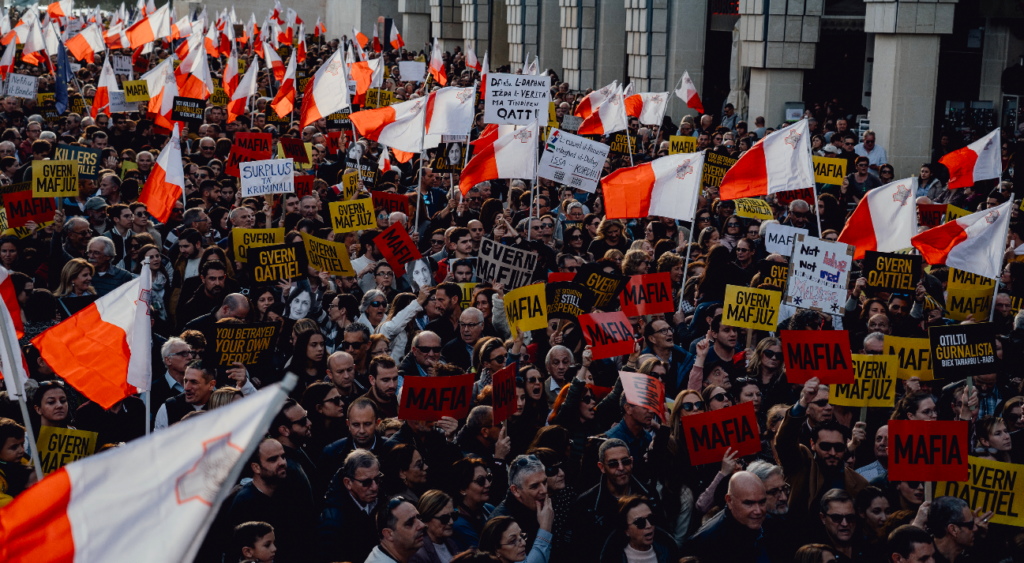 There is mounting evidence that the Prime Minister's best friend and former Chief of Staff is directly involved in the murder of Daphne Caruana Galizia or at least its coverup.
Instead of stepping down in shame and doing what he can to persuade us he was not also involved, Joseph Muscat has thrown himself a 40-day lifeline.
In this time Muscat plans to undermine the people's genuine call for justice by resorting to tribalism and making this about party politics when it is patently not.
Last night was a clear example.
Crowds gave Muscat a hero's welcome at the Labour Party's headquarters in what was pitched as a response to the Valletta protests. 
What a devastating sight for the three young men who spent two years working tirelessly for their murdered mother to have a fair shot at justice – only to see the person politically responsible for her murder cheered like a rockstar.
Muscat is using his party and its genuine supporters to turn this situation into an 'us and them' fight.
He frightens his supporters into thinking the protesters want to bring down the Labour government. But this is a lie.
Nobody is asking for the government to fall or for an election to be held. Even the Nationalist Party has made it clear the government should serve its mandate in full.
What people want is for the Labour government to cleanse itself of its criminal elements and start rebuilding Malta's image while building on all the good it has done in government.
And the protesters in Valletta are simply asking for Muscat to step away from a murder investigation that implicates his right-hand man.
The demand is not outrageous.
What is outrageous is Muscat's resistance.
His desperation to cling to power for as long as possible and exert control over a leadership race makes him look complicit. As do all the moves he has made since the news began emerging.
His first move was to quell internal dissent by forcing members of the Cabinet, the parliamentary group and Labour's administration to formally endorse all decisions he took.
Then, he began attacking the media and pitching this as a PN vs PL fight.
As a consequence people began sending out messages of vitriol.
Memes claiming Matthew Caruana Galizia killed his own mother and fake screenshots claiming Daphne Caruana Galizia said she wanted Labour children to die of cancer.
Then he brought thugs into Castille to intimidate journalists, raising the spectre of the 80s and sowing the seeds of violence.
To distract from the mounting evidence against his Chief of Staff, he fuelled rumours of an imminent resignation.
Then he commissioned a survey to remind people of his popularity.
And instead of doing the right thing and replacing himself with a caretaker Prime Minister, on Sunday night he issued a glitzy video announcing a leadership race for the Labour Party – effectively distracting his party with an internal election campaign and buying himself more time.
In his video, Muscat shamelessly congratulated himself for solving the murder of Daphne Caruana Galizia (while admitting the investigation is still ongoing) and giving Malta great GDP growth, free childcare, gay rights and a new power station. Yes, the same power station at the centre of this murder.
The power station he gave to Yorgen Fenech – the man he now says commissioned the murder.
The same man who planned to donate $5,000 per day into the secret Panama companies of Keith Schembri and then Energy Minister Konrad Mizzi.
Muscat told us in his video message that he is stepping down next month because of shortcomings by others that did not involve him but for which he had to shoulder responsibility.
He did not tell us whose shortcomings or what they were.
Perhaps there are too many to find where to begin.
But one thing is certain: the biggest shortcoming of all was Muscat's decision to stick by Schembri and Mizzi when they were exposed to the world as crooks.
And instead of owning up to his mistake, Muscat blames others while dragging the Labour Party and the country down with him.
Worse still, the man who promised to end tribalism and bring unity to Malta is now desperately trying to sow division where it does not exist to save his own skin.
Nobody of sound mind in Malta can accept a state-sponsored killing of a journalist.
Even those who mocked Caruana Galizia all their lives or who felt deeply victimised by her writings, are horrified by this situation.
This is about our own safety and security as a country.
We do not want a criminal network anywhere near Castille, let alone running it.
Malta has never been more united in its disgust.
Which is why Muscat wants to use tribalism to divide us: to have two tribes in the streets while he can quietly keep doing whatever he needs to get done.
We should respond by keeping our focus squarely on him and the people who enabled this murder and its coverup.
This is not the time to discuss the legacy of the Labour Party. It's not the time to discuss Daphne Caruana Galizia's writings. It's not the time to discuss hypocrisy or inaction.
This is the time to unite for Malta to have a real shot at justice for this grave crime that will leave a stain on our nation forever.
The worst thing we can do right now is make that stain greater by permitting a divisive narrative to thrive.